Art Deco was arguably the most defining style and cultural movement of the past 100 years. Starting in the 1920s and spread across fields from architecture to design, Art Deco was a movement that shaped things we touched every day. Furniture, appliances, cars, and yes, watches were all designed in the style of Art Deco.
Originally manufactured in square cases to easily accommodate a leather wrist strap and distinguish them from pocket watches, the tastemakers of the 1920s took particular notice of the square watch and it quickly became the must-have timepiece of the 20s. In our opinion, all brands should have a square or rectangular dress watch in their collection. Not all brands have the gravitas to capture the spirit of Art Deco in their creations, but Frederique Constant does it brilliantly with the new Classic Carrée Automatic.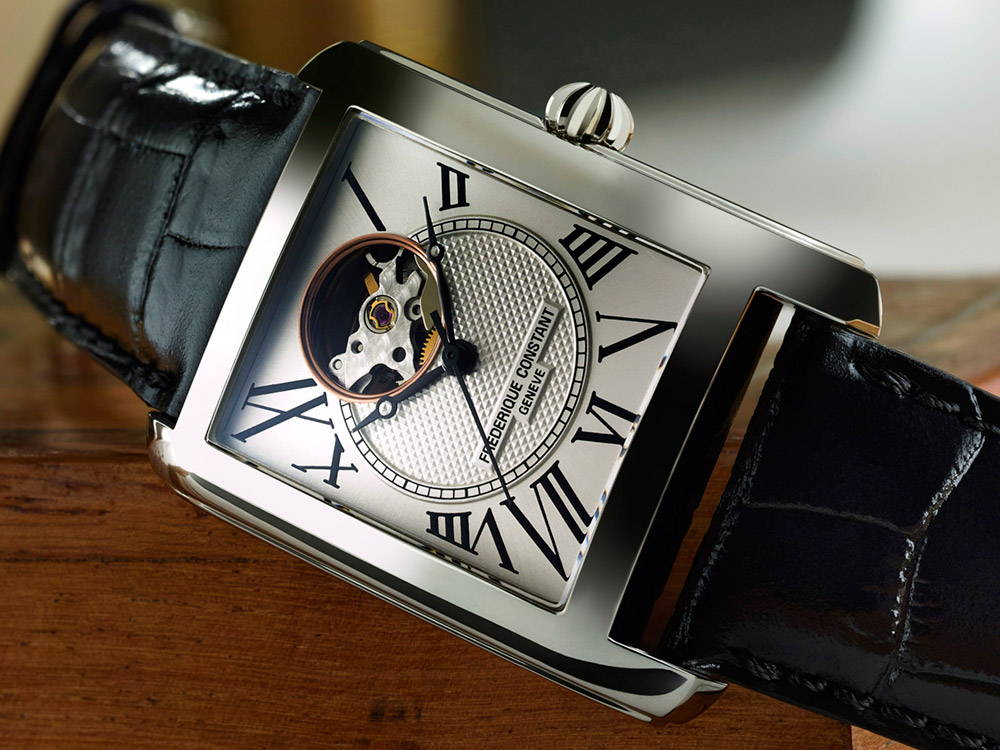 Defined by bold geometric forms and bright colors, the overarching theme of Art Deco was the desire to be modern above all else. In an era where most timepieces were large circular pocket watches, nothing was more modern than a square or rectangular case.
The newest Frederique Constant piece of 2018 harkens back nearly 100 years with a design inspired by the art deco movement. Available in rose-gold-plated stainless steel and polished stainless-steel cases, the Classic Carrée Automatic measures 30.4mm by 33.3mm and is finished with a dark brown or black leather strap. The case is slightly concaved to provide a more comfortable feel on the wrist. Coupled with the smaller case dimensions, the Carrée Automatic is classic Art Deco design equipped with modern watchmaking technology.
Powered by the FC-310 caliber self-winding movement which beats at 4Hz, the Classic has a power reserve of 38 hours and is water resistant to 30m. The movement is likely based on the ETA-2824. Wearers of the watch can get a sneak peek of the balance spring through an opening at twelve o'clock on the face. This "heartbeat opening" as Frederique Constant refers to is surrounded by a railroad-style minutes track.
The edges of the face are adorned with large hour markers in classic Roman Numerals. The dial on both versions of the Carrée Automatic are identical, silver faces with a guilloché design in the center which clearly invokes the geometric proclivities of the Art Deco movement. The watch face is finished with hand-polished black Breguet Style hands.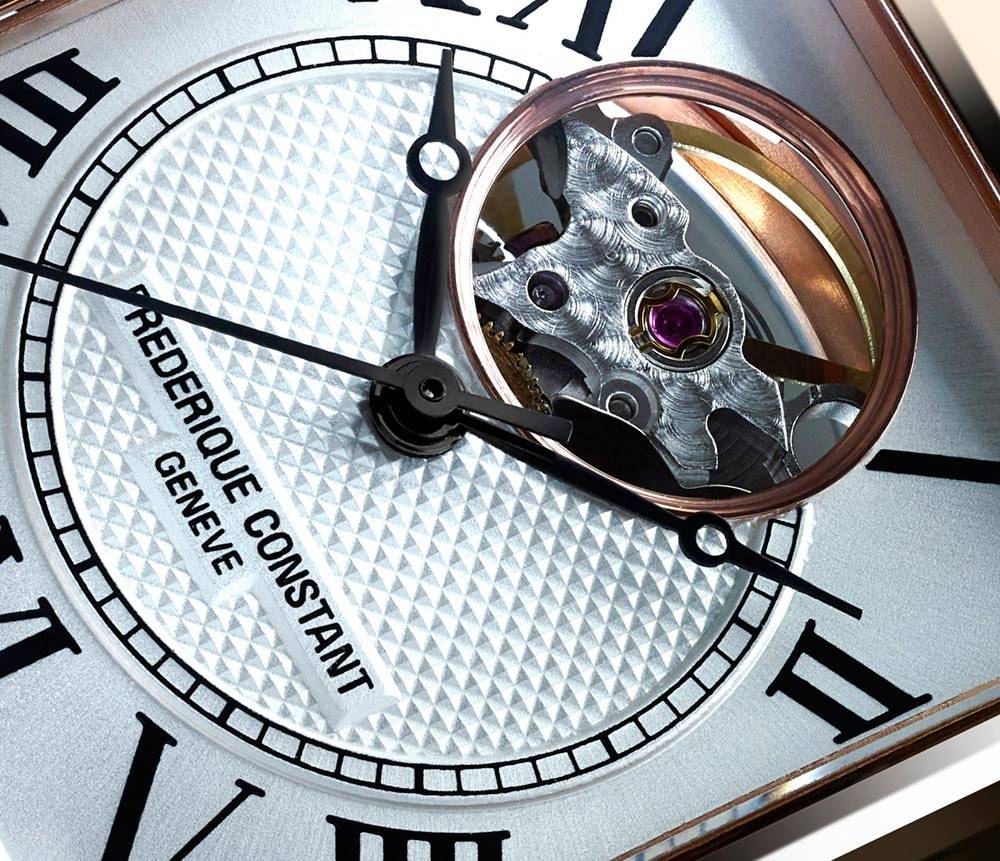 The Frederique Constant Classic Carrée Automatic has one more surprise for owners, a see-through case back embellished with colimaçon decoration. Colimaçon is French for spiral, especially a snail-shell style spiral, and this unique geometric spiral is the final Art Deco touch to this unique contemporary design.
Take a look at the entire Frederique Constant collection at our Winston-Salem location.