We have all heard the common fashion myth: don't mix your metals. The old mandate that it is a strict no-no to wear silver and gold together is outdated. Fashion is what you make it, and mixing gold and silver gives you the ability to play with different styles and patterns in your jewelry to create a unique look. Wearing gold and silver together helps spice up your look and any extra splash of color will be accented by the two precious metals. While there can be a temptation to wear more jewelry to amplify your unique style, it is possible to overwhelm the eyes when combining gold and silver. There are a few things to consider when mixing your metals. Following these tips will allow you to enjoy the best of both worlds and still look good dancing to the beat of your own style drum.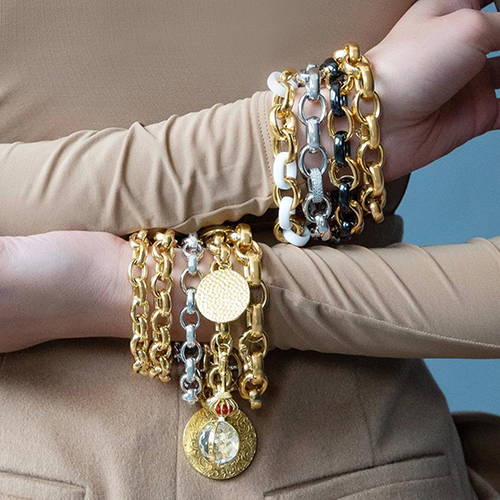 Decide Your Clothing First
Instead of falling into the decision of which shirt goes with the selection of gold and silver jewelry you have decided to wear, start with the outfit. Selecting your clothing choices first allows you to complement the tones in your outfit through a mix of silver and gold jewelry. Your outfit will not only determine the right tones but can also help you select the pieces of jewelry. A high neckline might keep that long necklace in the jewelry box until tomorrow, but a three-quarter sleeve could mean it is the perfect day for a bangle or bracelet.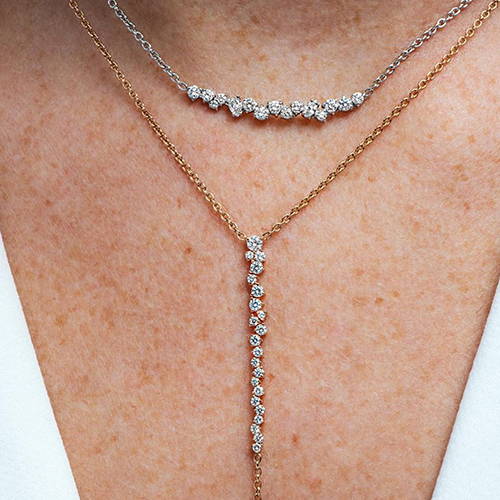 Mix Your Jewelry According to Categories
When mixing gold and silver jewelry, it often helps to focus on a few body areas. Your neck, wrists, and ears serve as the perfect "zones" to focus if you want to mix gold and silver pieces. When people combine gold and silver with poor results, it is usually because there is a lack of symmetry in their looks. By focusing on a similar theme, design, or size, you will create a balanced look that successfully combines your gold and silver pieces.
Combining gold and silver jewelry on your neck allows you to customize your look in a number of ways. Wearing one specific piece and then complementing it with simple silver or gold chains is a classic style embellishment. Offsetting the gold and silver combination with a simple rose gold bar necklace ties the look together in shades. Adding a colored charm to the look can complement both the gold and silver tones, while layering piece of different colors can create a statement for any outfit.
Wearing two tones of jewelry on your wrists and fingers follows many of the same elements as necklaces. Starting with a single piece and then choosing pieces that complement the tones and shades of the primary will never turn out poorly. On our wrists often the biggest statement is with our timepiece. A silver watch is easily paired with some simple gold bracelets or bangles. If the face of the watch has an interesting color, a mix of small gemstones could provide that extra little pop of color. With rings, it is all about balance. Spreading out your gold and silver rings so one piece is not overpowering the other is the best strategy. Simple, delicate gold rings are great for stacking and pair well with a medium-sized silver ring on another finger. A combination of several pieces preserves balance and keeps it from appearing that the use of silver is simply because you ran out of gold options.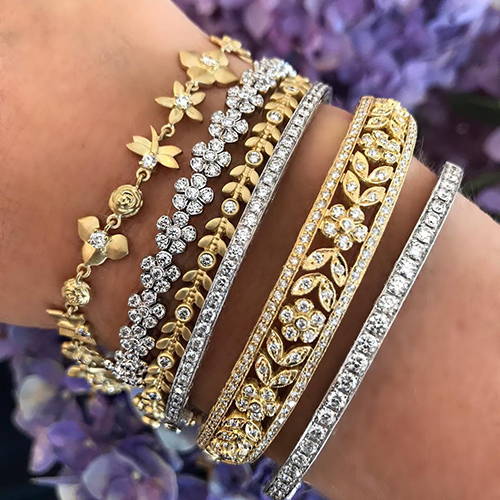 When wearing multiple pieces of jewelry in different tones of gold and silver on your body, keep in mind a focus on one particular area that complements your outfit. Creating a statement starts with keeping enough simplicity that your pieces are noticed. This will keep you from overusing jewelry and avoids crowding.
Ultimately the mix of gold and silver jewelry is fun, energetic, and creates a statement as individual and unique as you. Following a few simple guidelines maintains some order and balance to your look while still allowing your personality to show through because mixing gold and silver should be all about personality!