Men's fashion consistently walks a fine line between luxury and gaudy, timeless and trendy. Recent times have seen an expansion beyond the traditional wedding ring and watch only choices for men's jewelry into a greater range of accessories. To the dapper man aspiring to dive into men's accessories, welcome to the 21st century. Men's accessories are becoming not only more commonplace, but many men are using their favorite accessory to make fashion and lifestyle statements. Let's take a look at a few rules for choosing a new accessory for your wardrobe and a few of our favorite pieces.
The general rule for men's accessories is to stay away from extremes. Everything should look personal as if it were something you simply picked up throughout your journeys. When picking jewelry for yourself, ask if you feel like yourself once you have put on the jewelry. If you don't, chances are you were going for the "trendy" choice as opposed to something that will complement your everyday wardrobe and give you a little extra style. In addition to feeling like yourself with your jewelry choices, you should also feel comfortable. If specific symbology or stones or metals don't feel good to you, opt for a cleaner choice that brings out your unique stylish comfort. Finally, consider how long you will be wearing this piece of jewelry. Some pieces are exceptionally heavy and could become uncomfortable after several hours, so be mindful of how and when you will be wearing your jewelry.
Necklaces can be one of the hardest accessories for men to wear. At their best, they are a subtle way to express yourself, at their worst they bring to mind over-the-top characters known for their extreme accessory choices. While you want to make a statement, unless you are Mr. T we recommend sticking to something a little less bling and a little more timeless. Plain ornamented chains are always a classic choice. The metal, length, and closure can all contribute to your unique statement. Adding a pendant can always increase the style factor and with nearly limitless choices in all price brackets, necklaces are wonderful pieces to add to your wardrobe. Here are three of our favorites from Konstantino, available in our Winston-Salem location.
The simple rope chain in sterling silver by Konstantino is the perfect addition to your jewelry wardrobe. With a clasp closure and clean appearance with a little added texture, this chain is available in 16" or 18" length and is perfect for a closer to the chest fit and the addition of a small pendant. At 1.0 mm in thickness, the necklace is perfect for everyday wear and the price point provides an easy addition to your wardrobe if you are nervous about whether you are a "necklace" guy.
Konstantino brings us the Sterling Silver Leather Cord for the perfect pendant option. The 20" leather cord necklace is perfect for everyday wear with a comfortable fit that looks great and ages well with wear. The closure features a designed S-hook in sterling silver anchored to the leather cord with a silver wrap featuring signature Konstantino metalwork design. The added length and the use of leather make this the perfect option to hang a unique pendant or memento to complement your personal style.
Spiga means "wheat" in Italian, and a wheat chain is made up of twisted links which form a delicate and symmetrical chain. Konstantino puts their own spin on the wheat chain with the Sterling Silver Chain Square Wheat. At 3.75mm in thickness, the Square Wheat is complex enough to be worn alone and also simple enough to show off your personal style. Offered in a variety of lengths from 16" to 24", the Square Wheat uses a clasp closure which features the ornate detailing for which Konstantino is known.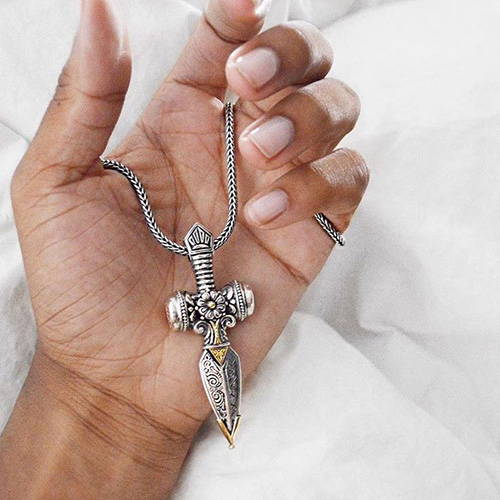 Whether you have never worn jewelry other than your everyday watch or you are well versed in the modern approach to accessory jewelry for men, following a few simple rules and considering your personal style will keep you looking sophisticated regardless of your choice.