You can do this. And you can make it look great while doing it. We're talking about necklaces. It's not always the easiest look for men, but a little know-how and some simple tips will have you looking sharp and sophisticated. One of the most important things to remember when it comes to any jewelry for men is that it's intended to complement, not overwhelm. For necklaces you want it to look natural without drawing attention to itself.
Much of what you choose is going to depend on your fashion style, and with many necklace choices available, you're sure to find one that matches you. Here are some popular styles to consider:
Chains
Chains are plain, simple, and classic. The big variables in chains will be the type of metal, length of chain, and the style of links. Chains can make a statement whether worn with a suit and tie or a white t-shirt. By considering length, you can create several different looks.
Religious Emblems
Necklaces with meaningful religious emblems, such as Christian crosses, the Star of David, or scapulars are worn as a symbol of one's faith. They are often subtle and understated and many men will wear these under their shirts. If you want to make a more impactful statement, there are also larger metallic or jeweled religious necklaces.
Pendants
Pendants on men's necklaces are typically a small ornament on a longer chain or cord. Pendants can be as large or as small as you are comfortable wearing. You can wear these on the outside of a casual shirt, or tucked under anything with a turned-down collar.
Simple Tips and Tricks
The key to wearing a chain is modesty
Keep it understated, often beneath a shirt
A small amount visible is enough to make a statement
Avoid cheap alternatives and go for higher quality
Here are a couple of our favorite picks for men: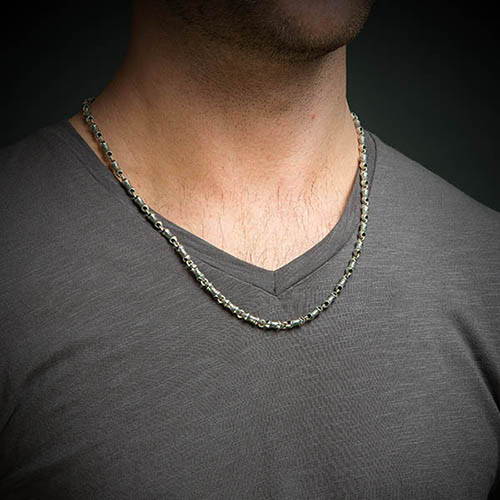 William Henry Ardent Sterling Silver Necklace
This simple but distinctive necklace is William Henry's only all-sterling necklace. Ardent takes the smallest classic link and configures it as a chain. The result is a piece that can be both lightweight and substantial at the same time. It's a great alternative to traditional curb and other standard neck chains.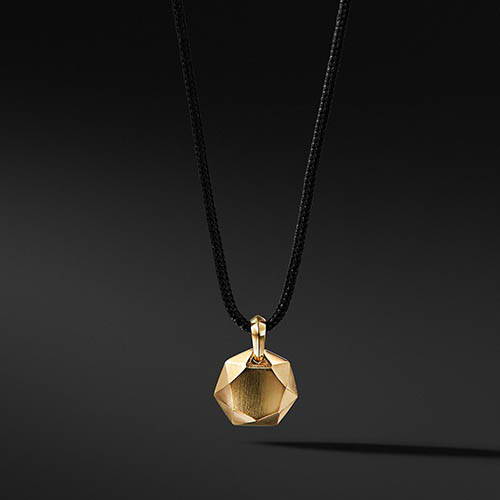 David Yurman Fortune Pendant in Black and 18K Gold
This piece was originally designed to welcome in the Lunar New Year. As part of the DY Fortune Collection, it has a gold and red palette with octagonal shapes. These shapes and colors are inspired by symbols of prosperity, good luck, and joy. The pendant measures 12mm made from 18-karat yellow-gold on a cloth cord that is adjustable from 16 to 18 inches.