The Anniversary Band Guide
Traditional anniversary gifts range from paper to silk. Modern guides suggest gifts from leather to platinum. Whether you lean traditional, modern, or march to your own drum, choosing a new ring is a great way to mark a milestone.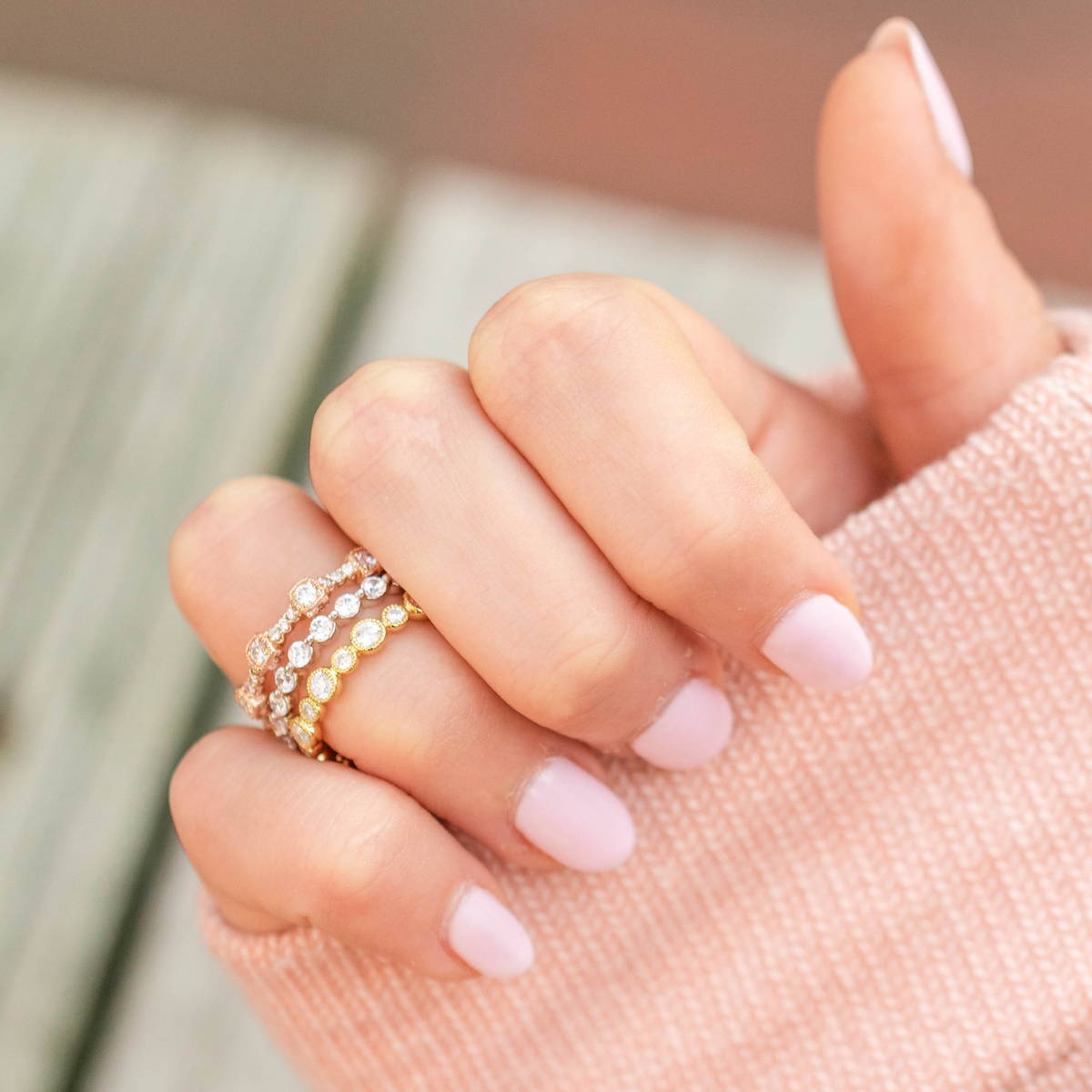 Choosing Your Anniversary Ring
The first step is deciding the style you like. If you have a simple wedding ring, now is an opportunity to introduce a more embellished ring or band. Many people choose eternity bands that feature gemstones encircling the ring. Others will add stones to match the anniversary number. You also can get an anniversary ring that looks similar to the wedding band, with different colored stones or metals for an elegant mixed look.
While people often use milestone years like 10 and 25 for these gifts, you can get an anniversary band for any anniversary year.
First Anniversary: Gold
Precious metals are a fine way to celebrate your first year together. Traditional yellow or white gold works well with many styles and colors, while rose gold gives a modern and contemporary look. Some of our favorite choices include:
Fifth Anniversary: Sapphire
Sapphires are a traditional symbol of truth and loyalty and makes for a romantic gesture on your fifth year together. It's a classic and versatile stone that comes in many different colors. For example:
Tenth Anniversary: Diamonds
Ten years together deserves the statement only a diamond can make. It's as durable as it is sentimental. It's a classic stone that is both vibrant and versatile. The brilliant sparkle of a diamond will radiate as bright as your love for each other. Here are two of our favorite ideas:
Which Finger Do I Choose?
If it's a ring designed to complement your wedding band, you can wear it on your ring finger in a stack. Others might choose to wear it on the middle finger alongside the wedding and engagement rings. Another popular option is to wear it on the opposite hand, or occasionally in place of your wedding ring.
The good news is, there are no hard rules on this. Wear it in the way that fits your style and personal aesthetic. When you're ready to choose an anniversary band, whether it's your first or fiftieth anniversary, the experts at Schiffman's are ready to help you choose something remarkable!