The recent Netflix hit "Tidying Up with Marie Kondo" has challenged millions to think differently about how to stay organized and keep the clutter out of your home (and life). One of her techniques, originally found in her bestselling book The Life-Changing Magic of Tidying Up, challenges you to decide item by item if what you possess "sparks joy." If it does not, Kondo recommends letting it go so it can spark joy in someone else. This has helped many clear out over-stuffed closets and kitchen cabinets with too many gadgets. But what would Ms. Kondo recommend you do with your jewelry?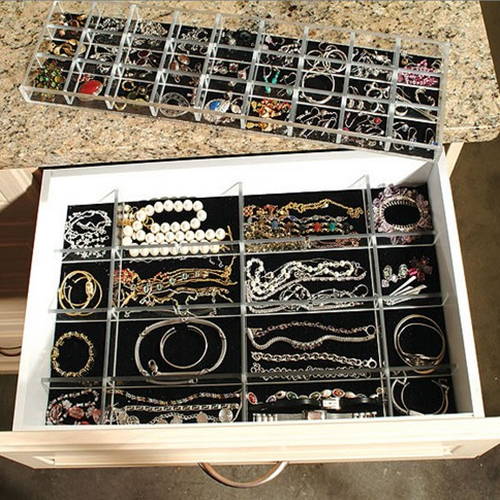 Here are 6 Marie Kondo approved ideas to store your jewelry for maximum joy:
1. Utilize empty space. Find a vanity, a drawer in a chest of drawers, or the shallow top drawer in your desk. You can be playful and a little creative here as you find ways to divide and separate available space to hold your jewelry.
2. Use small empty boxes as dividers. While working with clients, Marie spends more time per inch on jewelry storage than anything else. The box your jewelry originally came in from Schiffman's is ideal, but any box with separate compartments will get the job done. Think about a box that chocolates came in or using small dishes to keep your jewelry organized.
3. Make jewelry storage attractive. There's a Japanese saying that goes: "Beauty isn't built in a day." One of Marie's jewelry storage recommendations is to arrange your jewelry so it looks like it would in a showcase. Using boxes covered in crepe or tissue paper, or lining your jewelry boxes with postcards or wrapping paper is a creative way to be sure that each time you see your jewelry it will spark joy.
4. Store necklaces using a decorative comb. Simply string the chain and clasp over each tooth of the comb. Doing this will give you a creative way to display your necklaces and keep them from tangling in a clump in a jewelry box.
5. If you have one, use your jewelry box. Jewelry boxes are specifically designed to do the job of keeping your jewelry safe and display it in a way that sparks joy. But if you find that your jewelry box just isn't sparking the kind of joy you'd hope, you can always dismantle it and use the parts. If you don't have a jewelry box, ring and bracelet cushions can be purchased easily.
6. Mix and match open and closed storage. Keep the majority of your jewelry stored away in a drawer. The items you use each day can be kept out in a dish or tray in the open.
In addition to bringing joy, your jewelry should be kept in such a way that it won't get knocked around, scratched, or damage. Spend just a small amount of time arranging your jewelry today and it will be sure to spark joy for years to come.