In just a few days, Prince Harry and Meghan Markle will officially tie the knot and if you're anything like us you don't mind setting your alarm for an early Saturday morning to watch the magic happen live. After a short 6 month engagement, the royal couple will officially be wed this weekend and while most eyes will be on the bride and her stunning dress, our eyes will still be admiring that one-of-a-kind three stone stunner on her left hand.
While the Prince of Wales could have chosen any piece in the royal collection, he decided to custom design an engagement ring using the royal jeweler. Markle's ring showcases three stunning white diamonds set in a simple yet elegant 18k yellow gold mounting. The larger center stone was hand selected by the prince from a mine in Botswana - as a reminder their visit during the beginning of their courtship. The other two stones that rest on each side of the larger diamond originally belonged to his mother, Diana and are meant to remind the couple that she is always with them. The diamonds are accented by contrasting yellow gold as it is Meghan's favorite color metal.
In her own words to the BBC, "It's incredible. I think everything about Harry's thoughtfulness and the inclusion of his mother's diamonds and obviously not being able to meet his mom, it's so important to me to know that she's a part of this with us." She added that "To have this, which sort of links, where you come from, and Botswana, which is important to us, and it's perfect."
Whether you are looking for your own fairy tale engagement ring or just love the look of soon-to-be Princess Meghan's ring, we've got a few options just to make you just like royalty.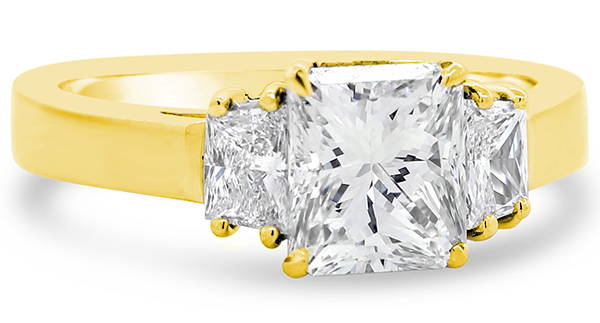 Pick #1 - Schiffman's Signature Three Stone Radiant Cut Engagement Ring
The classic three-stone design gets an upgrade in this setting with a 1.57 carat radiant cut center diamond that is accented by 2 .41 carat trapezoid cut diamonds all set in platinum. One thing you may not know about our diamonds is that our 4th generation owner, Vance Schiffman, hand selects every single one we sell. Vance feels that it's important to be hands on with our vendors and our stones to get the best quality and most ethically sourced product available.
This ring can also be made in 18k yellow gold if you prefer the contrasting colors from Markle's showstopper!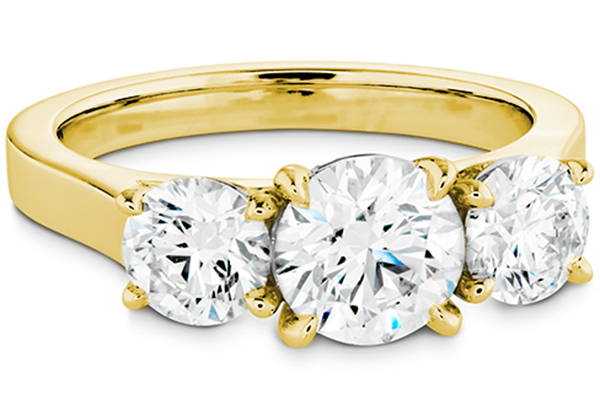 Pick #2 - Hearts On Fire Illustrious Three Stone Engagement Ring
If you are looking to attract a little royal attention of your own, this engagement ring from Hearts On Fire will stand out at any venue. It showcases a large center full cut diamond and is accented by two smaller full cut diamond on either side. What really makes this ring pop are the tiny diamonds along the crown of each diamond that created sparkle from another angle.
Pick #3 - Kirk Kara's Lori Engagement Ring
This sophisticated design has the look and feel of Meghan Markle's ring but is slightly different in that it is a halo setting rather than a three stone. It features a 1 carat emerald cut center stone accented by a halo of white diamonds with a total carat weight of .25. What sets this ring apart are the handcrafted details like the signature filigree and milgrain edging.
All of these rings are made or order so no two are identical (the real royal treatment!). Typically an engagement ring takes between four and six weeks to complete but if you are in a rush our team will work to fit your schedule. Drop by one of our Greensboro or Winston-Salem locations to see a few samples and get to work creating your own royal look!