There are few luxury timepiece makers that become known for having a global influence on sports, film, and television. There are fewer still that become the first of its kind to do something like make it to the moon—only one, in fact. A brand of such stature deserves nothing less than to bring its celebratory experience to the world. And fortunately for all of us, that's exactly what the legendary watchmaker Omega has done.
Omega has opened a new museum at its campus, "La Cité du Temps," in Biel, Switzerland. This ultra-modern space, which was developed under the direction of Omega's Brand Heritage Manager Petros Protopapas, provides an immersive and comprehensive experience that tells the legacy of this storied luxury timepiece brand. It's a must-see getaway for watch enthusiasts visiting the Swiss city.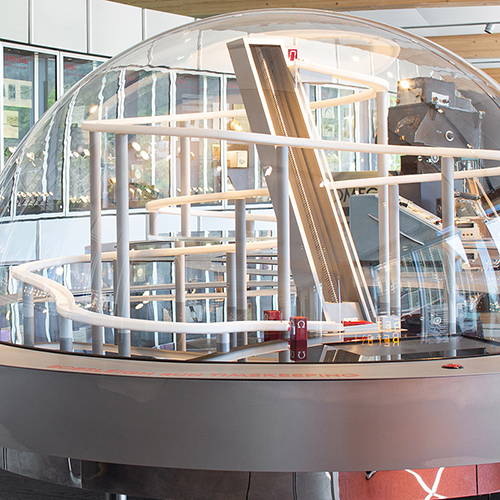 Omega has operated a museum since 1984, which has long housed many of its most iconic watches throughout history. But the company's new museum tells a much richer story of the watchmaker's history and the role it has had in some of the world's most important moments.
One of the major pieces of the Omega history is its intersection with space exploration and popular culture. With a quick search of that history, you can't help but quickly find that Omega's Speedmaster Professional has a long-standing history with NASA. As mentioned, it was the first watch to land on the moon—worn on the wrist of astronaut Buzz Aldrin—and the museums makes it possible for you to walk across a lunar surface to celebrate that connection.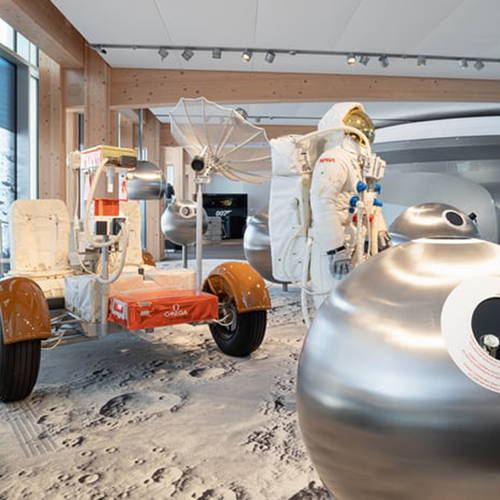 Omega even became the official timekeeper of the Olympic Games beginning in 1932. Think you have what it takes to keep up with Omega's Official Timekeeper technology? Then sprint along a nine-meter track equipped with this same Olympics track and field technology. Thanks to a photo finish at the end, you'll get to take home a copy of the exact moment you cross the finish line.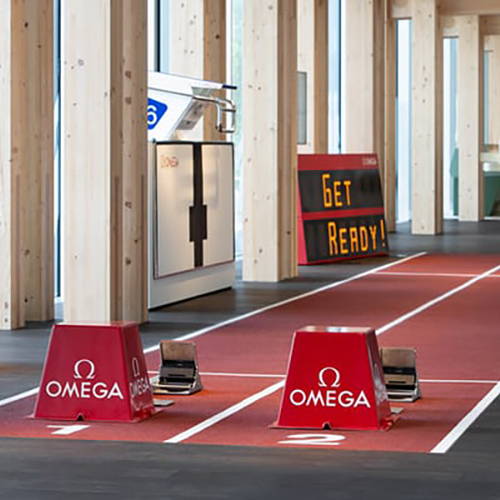 Omega watches have been worn in James Bond films, starting with 1995's Goldeneye. Therefore, the Omega Museum gives you the opportunity to explore all of the wristwatches worn by 007 himself.
Designed by renowned Japanese architect Shigeru Ban, who also designed Omega's state-of-the-art manufacturing facilities in Biel, the Omega Museum is built from steel, glass, and Swiss timber. Inside, you'll also find showcased many important timepieces from the company's history, including watches owned and worn by U.S. Presidents like John F. Kennedy, world heads of state, numerous astronauts, superstars like George Clooney and Elvis, and even Prince William.
Despite the role Omega has played in pop culture and science, you'll also be reminded that it's a luxury timepiece company first and foremost. Take a step inside a massive replica of the Speedmaster's inner-workings to explore the proprietary, George Daniels-designed co-axial escapement. There, you can see first-hand how Omega watches stay so robust and accurate. You'll also find a 360-degree timeline of Omega's history of both men's and women's watchmaking.
It's a museum that simply shouldn't be missed.