For many years, the modest brooch has been neglected and left to collect dust in your grandmother's jewelry box or found in on display at neighborhood yard sales. But now they've come back in style, showing up as statement accessories on the runways of Prada, Dolce & Gabbana, Marc Jacobs, Diane von Furstenberg, Emilio Pucci and more.
Brooches have been accessorizing clothing long before man actually made jewelry the way we do today. Aboriginals used flint found in the caves to hold together larger pieces of cloth that couldn't simply be tied. As the years went on, brooches were made from various precious metals and closures and eventually were set with gemstones.
Today, brooches are worn as a hair tie, as a pendant, pinned to the waist of gowns and scattered all over blazer lapels. Not only have they become a fashion trend, they are once again the goal of estate jewelry collectors who seek to collect from all design eras.
The timing for this "new" trend couldn't be more fitting as bulky statement necklaces have started to fall in popularity – they could only get so big before causing actual neck pain. And with the influx of capes in fashion now, a brooch can actually serve its original purpose as a practical fastener as well as a decoration.
Adorn one in the glamorous style of Elizabeth Taylor or convert it into an embellishment for a clutch or evening gown, but before you do, keep these four tips in mind:
Tip #1
Pair an antique brooch with a structured, geometric dress or pin it to a neon colored clutch for a look that's chic with added modern flair.
Tip #2
A brooch looks spectacular when worn traditionally over the bust but it can also be a statement when at the center of a buttoned up collar.
Tip #3
A new way to personalize your go-to, black or navy blazer is to add a playful brooch to the lapel.
Tip #4
If you've got a smaller purse you would love to carry from the office to a night out, adding a brooch to the top corner is a great way to dress it up.
Ready to get started with your own collection? Find one that fits your style, and start pinning everything from everyday tees to lavish silk scarves. Here are a few of our favorites: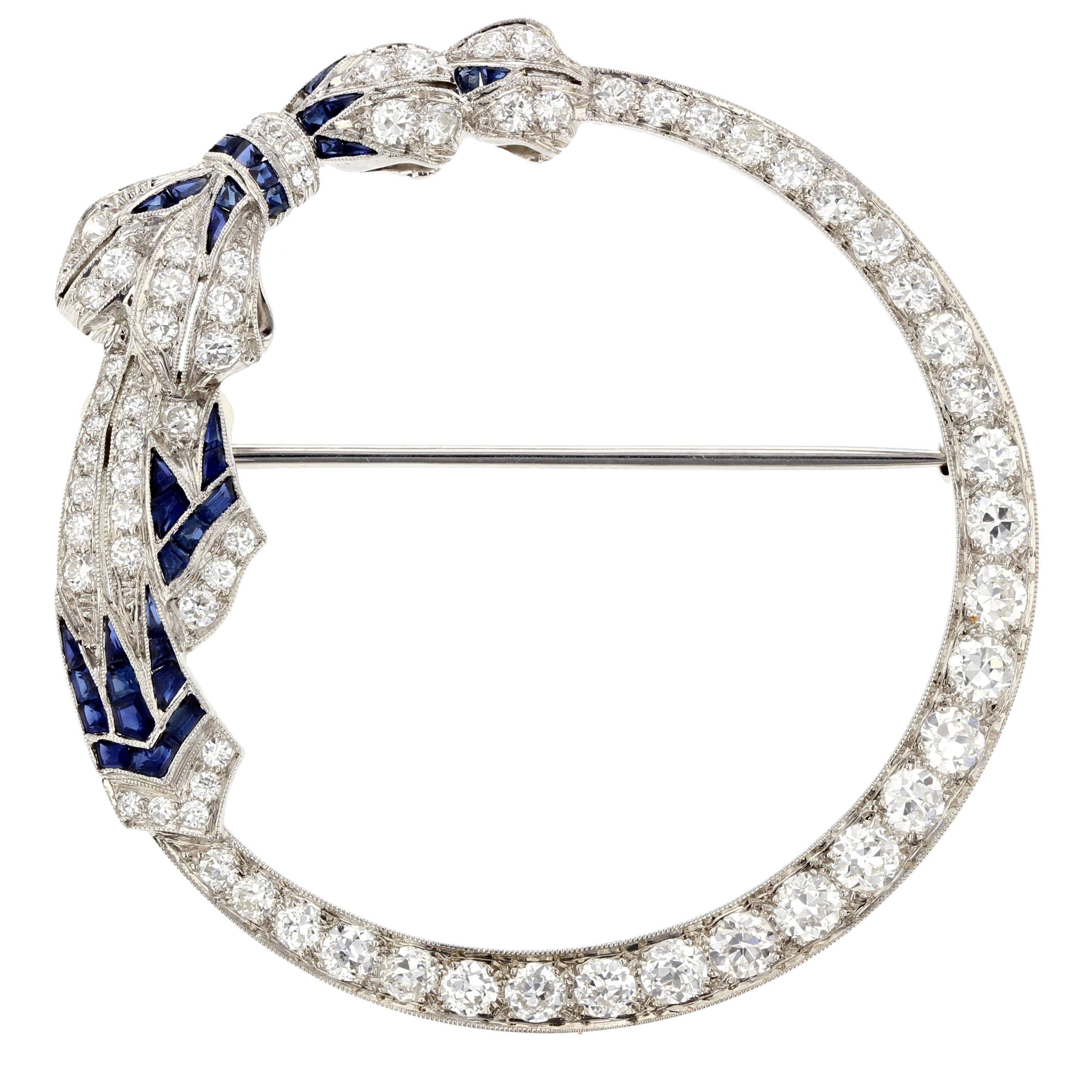 The Bow
This Art Deco brooch features an era specific design element – the bow – as well as over 3 carats of diamonds and sapphires all set in platinum. The matching pin makes it easy to attach to any one of your favorite outfits.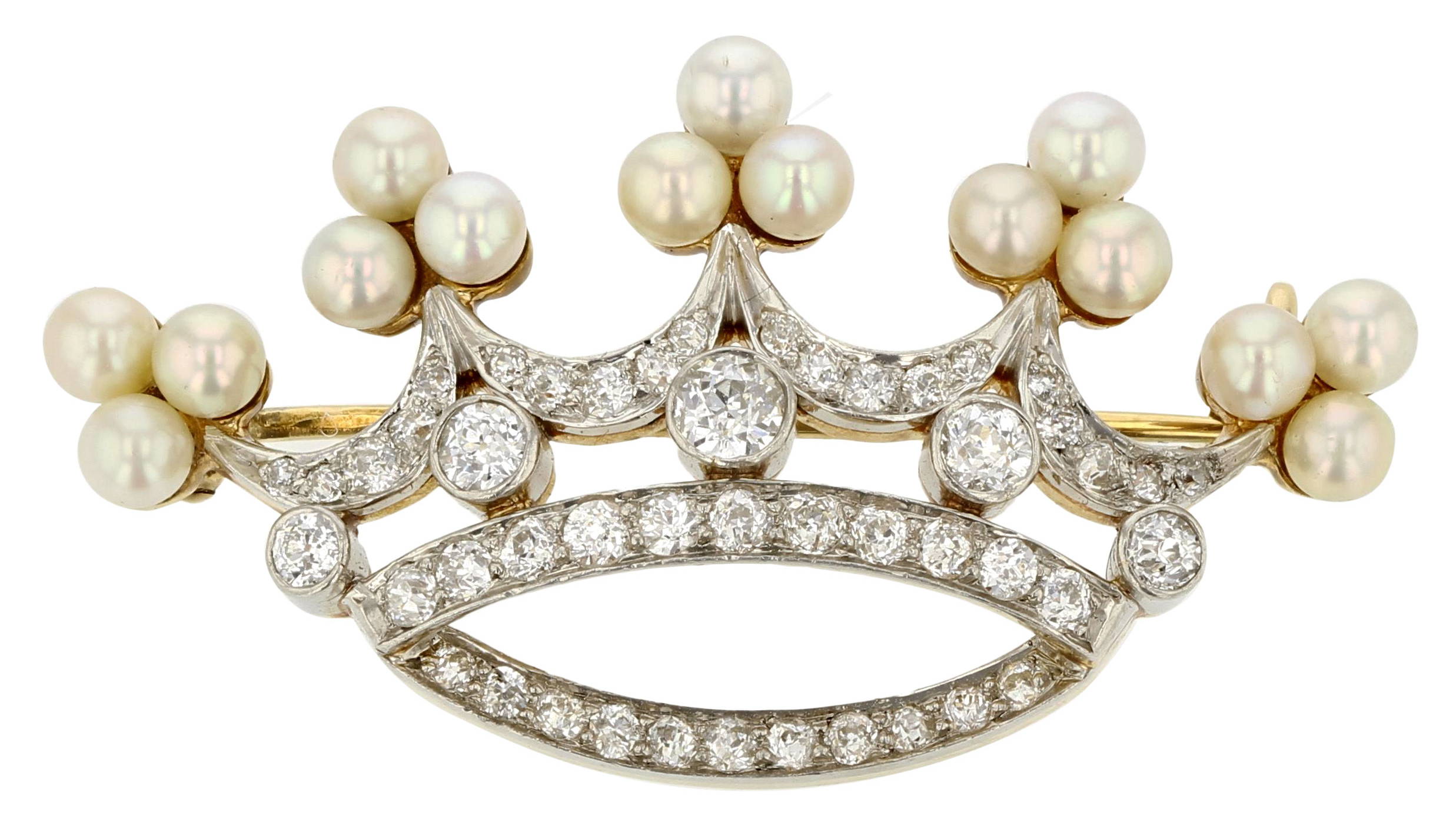 The Crown
One of our favorite brooches in our estate collection – this platinum and yellow gold brooch with matching yellow gold safety pin highlights natural pearls and diamonds in royal fashion (you'll be ready for the next royal wedding this May!).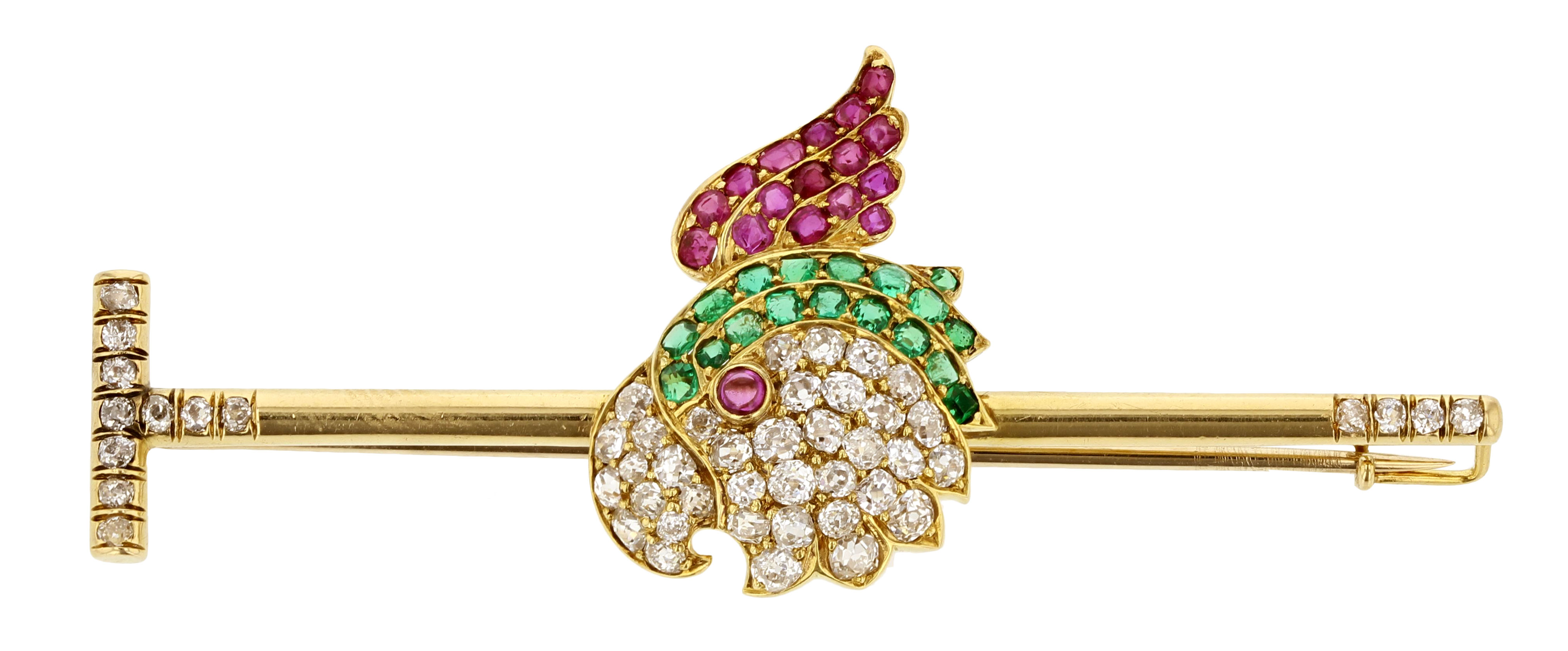 The Riding Crop
This brooch was hand crafted in the Victorian era which was known for highlighting several gemstones in one piece of jewelry. This brooch showcases diamonds, emeralds and rubies in a yellow gold Parrot head setting with matching pin fastener.

The Bar Pin
Made in the early 1900s, this Victorian bar pin features natural pearls that are bead set in one line. This piece would be an excellent choice as the first piece in your collection as it could be paired with just about anything in your wardrobe.
Interested in Seeing Our Full Collection of Brooches?
Join us for our Annual Estate Event happening now at our newly renovated Downtown Greensboro location! Shop our largest and most comprehensive collection of estate, vintage and designer jewelry! We also have FREE parking in lot, at the corner of Davie & Washington Streets and will be open this Saturday, March 24th from 10am - 4pm.