With fall just around the corner, it's time to think about more than pumpkin spice. It's the perfect time to think about inspiring your neckline. Give your look a refresh by exploring these new fall jewelry trends: revisiting the past, looking toward the classics, and adding on the layers.
Layered necklaces are all the rage right now, a style that will continue to finish off the most covetable of outfits. But today's modern look has shifted from once-delicate styles to a new, bolder sophistication. Part of this new look is due to a resurgence of 1990s punk and grunge styles. The runways paired heavy chains with pendant necklaces. And chokers and chains are back. When pairing chains with a choker, you'll discover a fashionable new look you'll love. But if a newer, more upscale retro isn't your thing, don't worry—layered rhinestones and pearls are always en vogue, and they are also runway ready this year. Here are some of our favorite ways to add style to your neck this fall.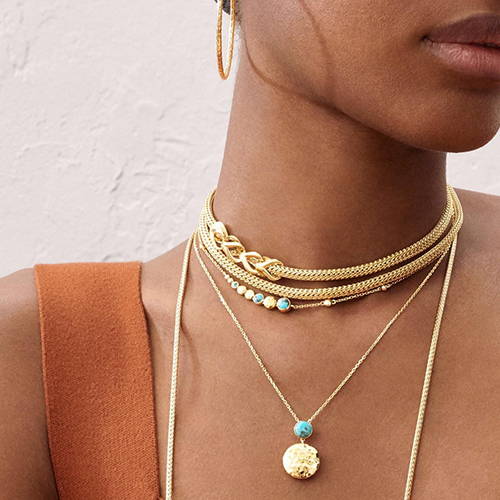 Rediscover chokers
Chokers have resurfaced as a statement piece that will bring added visual interest to layers or as a simple statement piece. As usual, John Hardy is never one to disappoint. This fall, consider choosing an ultra-shiny golden choker studded with jewels to add texture and intrigue to your neck. Or, for something a bit more understated, golden chokers made with a small chain that create a gold V pendant, or one made with geometric links, begin to create a statement you'll love. Don't be afraid to add a choker or two for added layers, or pair them with chunkier chains from the John Hardy line.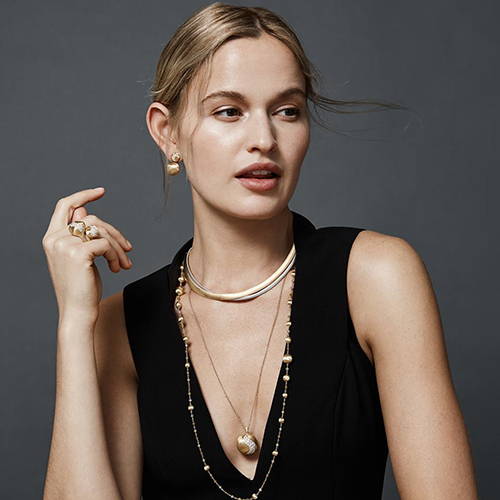 Add different kinds of necklaces
It's easy to add texture or create a moodier look with layers. Create a chunkier look using different kinds of chains. Our favorites this year come from Marco Bicego, who is mixing silvers and golds with different shapes or sizes of chains to create a richer textured effect. For something wilder, the luxury jewelry maker's chain necklaces feature charms or long ropes of pearls. Meanwhile, large gems on a single necklace add a touch of elegance.
Make it industrial
Want to relive the '80s punk or '90s grunge era? Then John Hardy's retro aesthetic is right up your alley. The runway favorite for fall jewelry trends for both 2019 and 2020 was heavy-duty chains worn as necklaces. Pair this style with cozy sweaters, which gives the shiny metal a luxurious look. Plus, chains were also used for body jewelry and designer belts, so look for ways to accessorize it beyond your neck.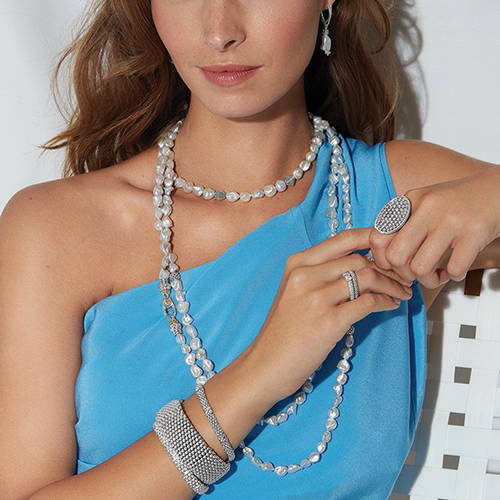 Pearls: A tried and true classic
Audrey Hepburn in Breakfast at Tiffany's solidified the place of pearls in a traditional necklace lineup. And while today's pearls are still delicate and feminine, Lagos necklaces are draped and layered pearls to fit within the bourgeois collections of the big Parisian fashion houses. Pearls create a mature yet romantic look. And the addition of rhinestone appliqués create a subtle, yet elegant embellishment.
While your favorite looks can be matched with more sophisticated styles these styles will make any outfit look chic. Dress up your distressed jeans and faded tees for a stylish retro look. And match your necklaces with other fall jewelry trends—glamorous rhinestones, and long earrings—to look like you've stepped off the runway yourself.