According to buying trends, the average price of an engagement ring is $6,351. But we know that "price" isn't the only factor that determines a good ring. From Walmart to Tiffany's, jewelry prices vary quite a bit, so it's important to always work with a trusted jeweler, get referrals from a friend, and check online reviews. No matter what your budget is, we have some tips that will help you get "more bang for your bling!"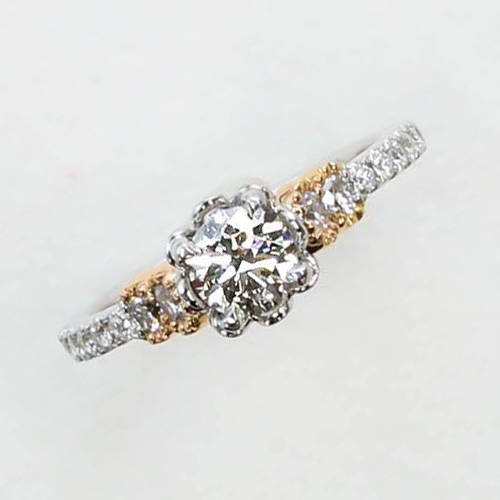 Focus on the Cut
If you're hoping to make the biggest impact on a smaller budget, the "cut" is your best friend. The cut is where most of the brilliance of a diamond comes from. When a diamond has an excellent cut rating, it's going to reflect back more light and face up larger than other diamonds of the same size.
Choose a Halo Setting
With a halo setting, you get the look of a bigger ring. The center stone, surrounded by small accents (called melee), make the diamond appear up to a half size larger than it is. It also adds a vintage look that is very popular now.
Or Choose a 4-Prong Setting
The classic 4-prong setting is one of the finest ways to showcase a diamond. You can spend less on the ring, and get a better quality diamond. This setting means more of the stone is visible, and hard to ignore. We always recommend the platinum prongs, since it's much stronger and will hold the diamond firmly in place.
Insist on a Certificate
Whether you're spending $2,000 or $20,000…this is a big, big purchase. Your diamond should come with a certificate from the Gemological Institute of America (GIA), or the American Gemological Society (AGS). These are independent labs that will confirm the weight and quality of the diamond, and it is the only way to ensure the quality you were promised is the quality you received. Insurance companies often require this documentation to confirm the value of the diamond to protect it.
Shop at the Right Time
The Spring Diamond Event is happening at Friendly Center and Winston-Salem. We can help you choose from the largest selection of loose diamonds and engagement rings. Financing is available and easy, plus for purchases over $2,995, you'll get up to 10% back on your next purchase (great for wedding bands)!