A diamond necklace can be simple. It can be over-the-top, MET Ball outlandish, too. A simple diamond necklace is the piece you build a collection around that makes you proud twenty years from now. Dainty gold chains or stout silver links, different metals and carat sizes, the opportunities to create something unique are endless. The timelessness of a diamond necklace is something that can be passed down for generations to come.
Bright, radiant, shimmering, diamonds seem to never go out of fashion, and a diamond necklace can be layered with pendants or other jewelry from your collection for whatever the occasion. From solitaires to rows of diamonds, a necklace is the perfect opportunity to demonstrate elevated design and can spotlight any fashion taste. Here are three of our favorites that never seem to go out of style.
Christopher Designs L'Amour Crisscut Pendant
Have you ever wondered if there was a diamond which appeared larger than normal? Thanks to the proprietary cut of Christopher Designs, their diamonds have more scintillation, appear brighter, whiter, and up to fifty percent larger than other stones of the same weight. The L'Amour Crisscut Pendant is available in different sizes and carat weights. Presented in 14k, 18k, and platinum, as well as white, yellow, or rose gold, the pendant features a 0.33ct Crisscut diamond at the center.
Surrounded by round diamonds with a 0.08cttw, the halo design pendant features a 16" plain loop chain. The center stone is laid on an east-west design allowing the brilliance of the diamond to shine through and making the Christopher Designs pendant the perfect choice for a simple diamond necklace that will never go out of style.
Hearts on Fire Copley Bezel Necklace
Perfect for every day wear, the Hearts on Fire Copley Bezel Necklace is delicate yet stunning, showcasing an array of perfectly cut Hearts on Fire diamonds. Available in white, yellow, or rose gold, the string of nine diamond solitaires registers a total weight of 0.4 carats.
Each diamond is surrounded in gold and connected to the others in a curved procession, culminating with a large center stone. The Copley Bezel Necklace is sure to add elegance to any outfit and is definitely a "must-have".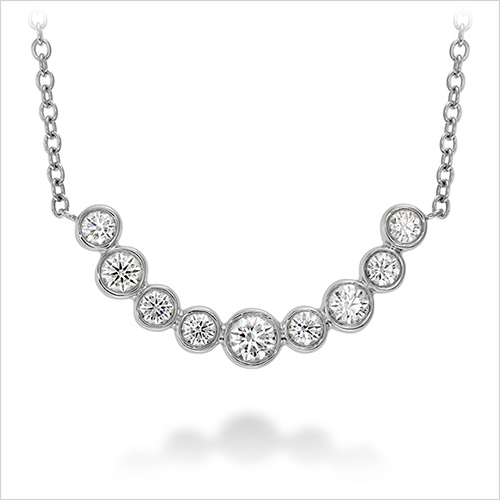 Hearts on Fire Optima Single Diamond Pendant
The Hearts on Fire Optima Single Diamond Pendant showcases two things Hearts on Fire does exceptionally well, design and diamonds. The pendant is offered in yellow, white, or rose gold with a unique twist to the pendant which seats a brilliant cut Hearts on Fire diamond.
The combination of subtle design and brilliant shine is perfect for every day and can be dressed up or down to accent any outfit. The 0.25 carat weight diamond is the centerpiece of the pendant and draws your eye to the World's Most Perfectly Cut Diamond.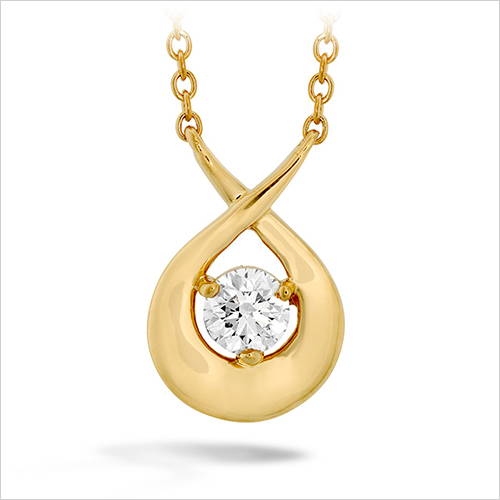 When searching for jewelry that will never go out of style, you cannot go wrong with a simple diamond necklace. Equal parts glitz and style, they are always timeless and sure to make an impression.