You don't follow traditions. You make your own. You order the thing on the menu nobody else has tried. If everyone else is driving a Chevy, you're in a Subaru. And a diamond engagement ring? They're fantastic - for other people.
In the long history of engagements and gemstones, the diamond engagement ring is a relatively "new" tradition. In 1477, a diamond was first used in an engagement ring by Archduke Maximillian of Austria. He gave Mary of Burgundy a gold ring that had the letter "M" written in diamonds.
Daring couples have decided to buck that trend and go for colored stones in a rainbow of hues. It's becoming more common to see gems like emeralds, rubies, sapphires, and opals used in engagement rings, and the reasons are just as varied as the color options. Some choose colored gems for ethical reasons. Others have discovered that you can get a bigger gem for the same money. And some simply love the unique color and originality of these gems.
At the head of this trend appears to be the millennials. Instead of the "3 month's salary" rule that some have used for engagement rings, the younger generation is directing that money toward a home or an epic honeymoon experience. An engagement ring today can be absolutely breathtaking without spending "Hailey Baldwin" kind of money on a whopper of a diamond. Emeralds and sapphires still pack that same "wow," and nobody knows how much you spent!
You might like the vintage look found in rubies, or pick your birthstone for a special personal meaning. Here are a few "non-traditional" options people have chosen for engagement rings:
Suna Bros. Sapphire and Diamond Ring
You will definitely catch some eyes with this stunning blue sapphire ring flanked by gorgeous diamonds. It also has matching sapphire and diamond bands and is available in 18-karat yellow gold and platinum.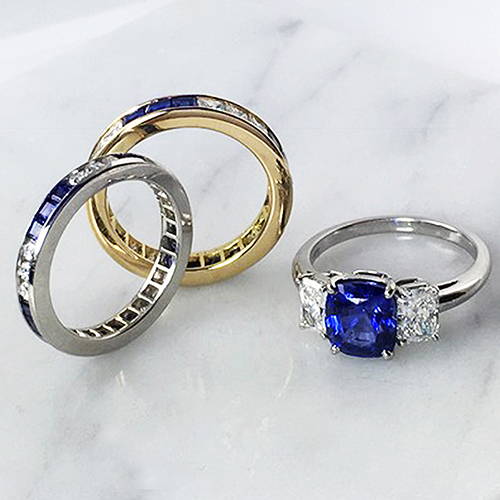 Christopher Designs Emerald Cut Sapphire Ring
This ring from Christopher Designs will certainly make a statement with a 2.43-carat emerald cut Sapphire center, 2 fancy cut diamonds (0.21 total carat weight), and round diamonds (1.18 total carat weight). The dramatic effect is enhanced with the halo design with diamonds going halfway around the finger. This is available in 14-karat, 18-karat, and platinum in white, yellow, or rose gold. The sapphire and diamonds are also available in a variety of different sizes and carat weights.
Christopher Designs Mandarin Garnet Ring
Also from Christopher Designs comes an engagement ring that completely breaks the traditional mold. You're looking at a profound 4.92-carat Mandarin Garnet surrounded by round diamonds in a halo setting, totaling 0.23-carats. This is available in many different sizes and carat weights. The ring is also available in 14-karat, 18-karat, and platinum in white, yellow, or rose gold.