Express Your One-of-a-Kind Love with These Unique Engagement Rings
The two of you met in the most unusual circumstances. Logically, you two are polar opposites. But logic and love have nothing to do with each other. Your love has its own story, and it only makes sense that the engagement ring you pick out should be as unique as your relationship.
The traditional diamond engagement ring is still as popular as ever, but there's an ever-growing trend in finding an engagement ring that doesn't fit the traditional mold. Prince William's choice of using his mother's sapphire as the engagement ring for Kate got people looking at different options. The good news is, you don't have to be royalty to make it special. Here are some considerations:
1. Start Early.
If you're going for something custom, starting the process early will ensure it's ready to put on her finger.
2. Budget Matters.
Choosing to go the non-traditional route means you can get a big impact for a small amount of money.
3. Practicality.
Not all rings and stones are going to be as durable as the traditional diamond. Make sure it compliments your active lifestyle.
4. Endless Choices
You can put your own unique stamp on it in a number of different ways. Here are just a few ideas to get you thinking:
Choose a colored diamond, instead of traditional white.
Choose a gemstone just like Prince William did.
Choose multiple metals to add character to an otherwise ordinary ring.
Choose a vintage ring for a bit of unexpected elegance.
Choose a completely custom ring and you'll be giving her a ring that nobody else has.
At Schiffman's, we have some pretty special rings that will certainly stand out from the pack and show the world that you two share a unique kind of love.
Christopher Design's L'Amour Crisscut Yellow Diamond Engagement Ring
This ring design has diamonds going half way around the finger. In the middle is a 1 carat yellow diamond along with 2 half-moon diamonds, weighing 0.30 carats, all surrounded by round diamonds at 0.96-carat weight. This can be set in 14 or 18-karat platinum, white, yellow, or rose gold.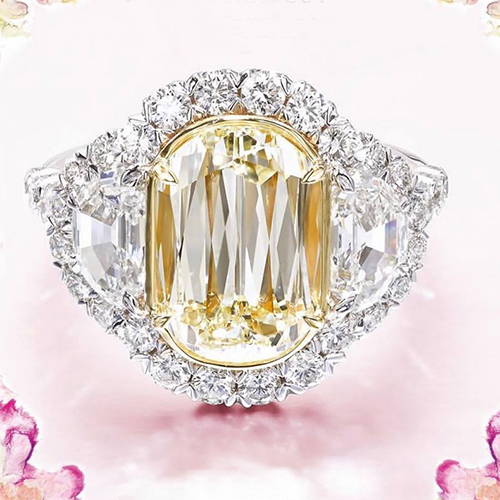 Marco Bicego's 18-Karat Yellow Gold & Pave Diamond Stackable Ring
This ring got its inspiration from a tropical Indian sunset and the stone-cutting heritage of Jaipur. Marco Bicego's artisans hand engraved this 18-karat yellow gold stackable ring, with pave diamonds weighing 0.07 carats.
Kirk Kara's Angelique Engagement Ring
Personality jumps from this whimsically chic and artistic design. You'll find 1/6 carat weight of diamonds and signature handcrafted milgrain edging. You can also customize this one with a center 1 carat round cut stone to make a profound impact. Kirk Kara's Angelique Engagement Ring has many options, including stones in round, princess, oval, cushion, emerald, and marquise. Stones that can be placed in the ring include blue or pink sapphire, amethyst, tsavorite, and ruby … and the metal can be your choice of platinum, or 14 and 18-karat white, rose, or yellow gold.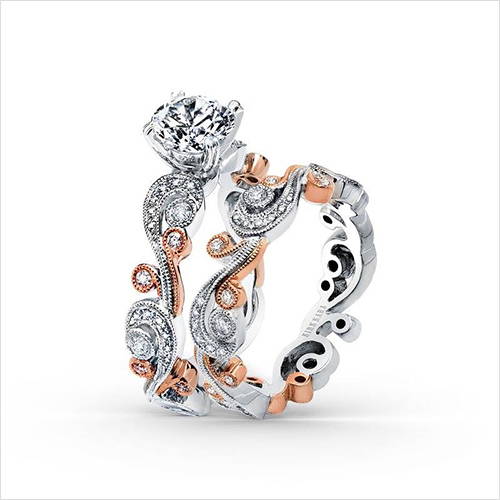 No matter what you choose, the whole idea is to make it your own and really show the world that there's never been another couple like the two of you!