As you start planning for your wedding and are thinking about your future, the longevity of your wedding band is something you'll want to take into consideration. The expectation is that your ring will last a lifetime. And depending upon your lifestyle and desires, you may want to plan for the ring that best fits you, and possibly rule out those that don't. How do you find what suits your style and needs best? These 5 questions can help you find the wedding band that's right for you and your lifestyle.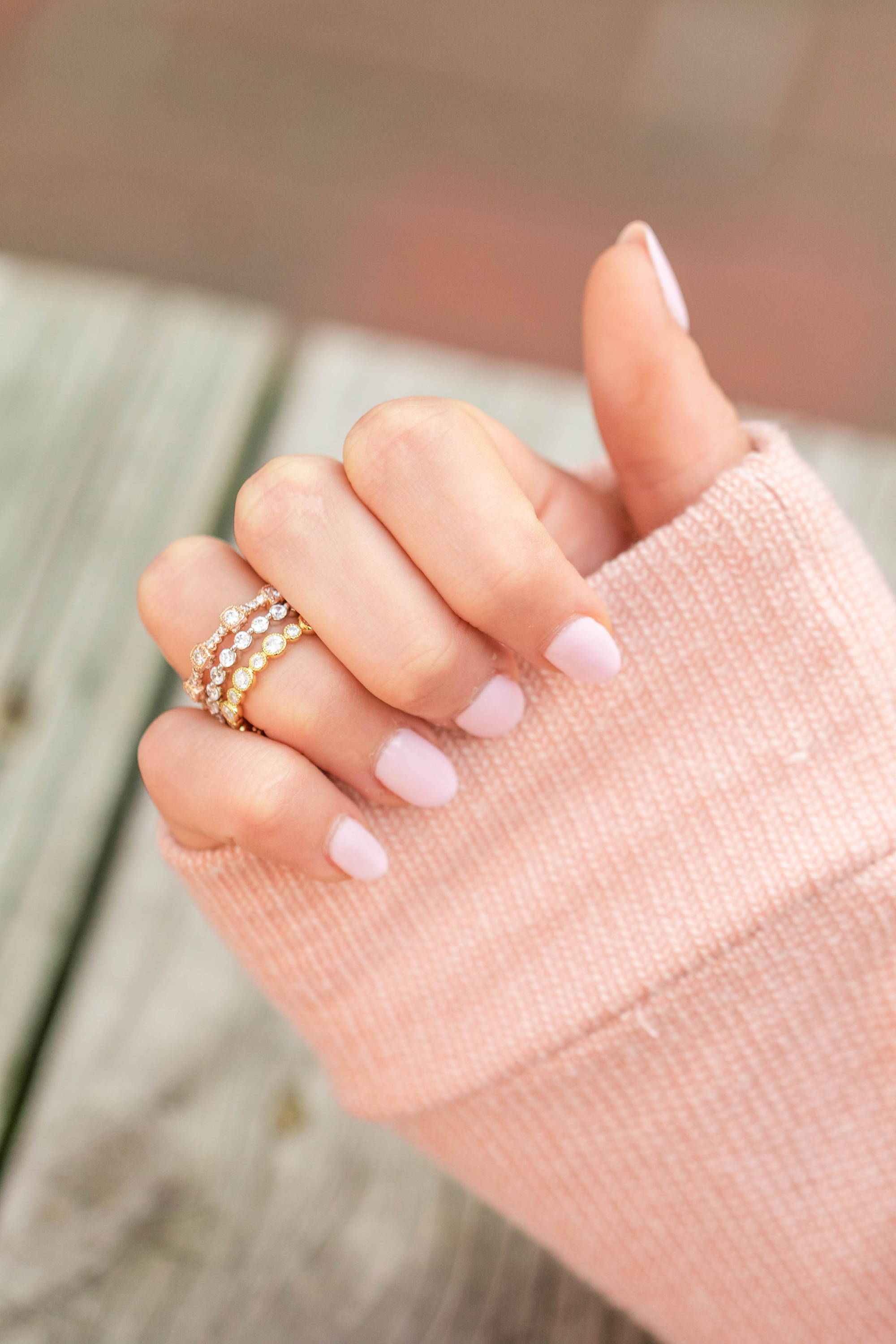 1. How much upkeep will I need to do?
Certain metals have different pros and cons, depending upon how much care you want to put into them. You may love the look of a certain type of metal, so if you're not concerned with maintaining its upkeep, you don't need to have concerns. But if you're the type who wants to choose a ring based upon its maintenance, it may help you know how to choose what's right for you.
Yellow gold, for example, is a great choice for anyone who likes warm colors and wants minimal upkeep. And 14 karat gold is less likely to scratch than an 18 karat gold, so don't be afraid to talk to your jeweler about what's right for your needs. This type of gold just requires the occasional cleaning to maintain its beauty.
White gold, on the other hand, needs to be dipped in rhodium every other year in order to maintain its color and shine with age. Rhodium can scratch, rub, and lose its color, so just make sure you're staying on top of keeping it cleaned.
Platinum has a number of benefits for anyone who is looking for a silver color. For one, it is naturally hypoallergenic, making it a great option for anyone with sensitive skin. It also requires less refinishing because it doesn't change colors with weather. However, it scratches much easier than gold, so you'll need to get it cleaned and buffed on occasion.
Titanium is another highly durable metal for those looking for a silver wedding band. Titanium is highly resistant to corrosion and it retains its luster. Because it's harder than platinum, it doesn't scratch, damage, or lose its shape. The one downfall? It may oxidize under high temperatures.
2. What kind of wear and tear will my ring go through?
Think about your everyday life before you make a final decision on the wedding band you want to wear. Activities like lifting weights and exercising or doing manual labor can damage your ring, as can chemicals from activities like cleaning, swimming, and sunbathing. Take those things into consideration as you choose your band.
If you know you'll be rough on your ring, you may want to choose something strong and durable. Platinum may be the right choice for you. If you're set on gold, choose a lower karat to keep it protected. The higher the karat, the purer the gold and the greater the chance it will scratch. Gold may also be mixed with other alloys or metals to make them stronger, so ask your jeweler how to maintain a mixed metal.
If you need something even stronger for everyday wear, choose titanium or even tungsten for an elegant, yet highly durable band.
3. Will my ring have prongs that hold a diamond?
If you have an engagement ring that will hold a diamond in place, you'll want to make sure the metal is strong enough to keep it set. the denser the metal, the more secure the setting for your diamond or gemstone. While all metals will hold your stone, keep in mind that platinum's density is a top choice for prongs for a reason.
4. Do I want an engraving?
You may want to commemorate your day with a special sentiment. A few factors will determine whether or not your ring can be engraved. Narrow band widths typically cannot hold engraving, but certain metals hold them better as well. for example, soft metals like gold and silver will work, and platinum hold the details best. Discuss it with your jeweler before you have your heart set on a specific ring.
5. Are the metals responsibly sourced?
Thinking about where you ring came from? We are, too. Don't be afraid to ask your jeweler if your ring's metal has been responsibly sourced. When you metals are fair-minded certified, you can rest well knowing you are supporting responsible practiced, social development, and environmental protection in the small-scale mining community your ring came from.